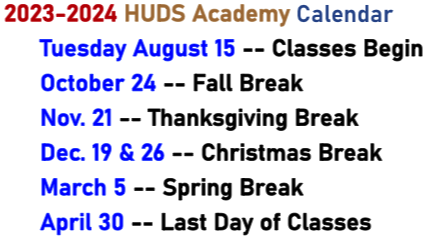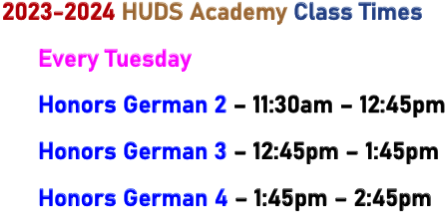 There is
NO
tuition
for all HUDS Academy courses; however, there is a
$10
per semester
(
$20
per year
) standard homeschool room fee for The Shepherd's Church for use of our classroom. This fee is independent of any HARC fees you may have paid.
Important:
Completing the Enrollment Form
does not automatically guarantee a seat
in any class. There is limited seating available and enrollments are accepted on a first come, first serve basis. After the enrollment form is submitted, you will receive an email within 1-7 days confirming an enrolled seat in the class for your student or a place on the waiting list.
Class registration must be completed by a
PARENT
.
To
enroll
a student
for any of the
HUDS Academy
German courses, click the
Enrollment
button.